Resources
Resources relating to developing universal tumor screening can be found in Development Resources.
On this page
PowerPoint Presentations
Download a powerpoint presentation for an overview of universal Lynch syndrome tumor screening.
---
CME Course
Below is a link to a CME Course sponsored by the American Medical Association & the National Coalition for Health Professional Education in Genetics
Colorectal Cancer (CRC): Is Your Patient at High Risk?
---
Find a Genetic Counselor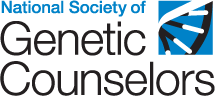 NSGC serves as an integral resource for patients, prospective students and healthcare providers interested in learning more about genetic counseling.
National Society of Genetic Counselors website
---
Frequently Asked Questions
Review the frequently asked questions about Lynch Syndrome.