About Us
Our Mission
Promote universal Lynch Syndrome screening on all newly diagnosed colorectal and endometrial cancers.
Facilitate the ability of institutions to implement appropriate screening by sharing resources, protocols and data through network collaboration.
Investigate universal screening for other Lynch Syndrome related malignancies.
Read our by-laws.
This public membership list only includes LSSN member institutions that elected to be listed. The number of institutions that are members of LSSN are listed by state in the map below.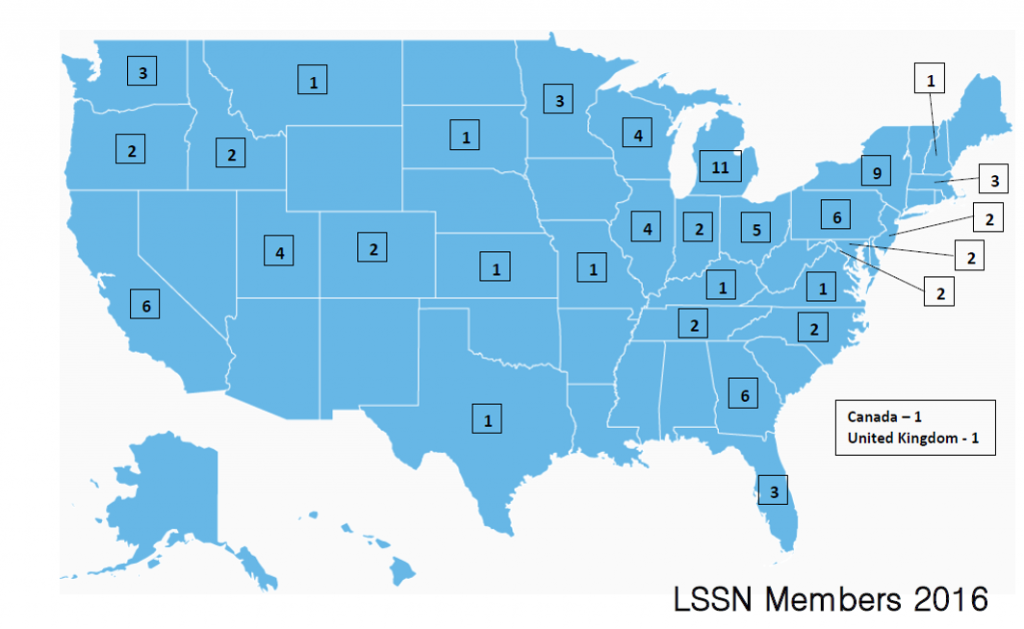 Our Story
In September 2011, the Michigan Department of Community Health, with one-time funding from the Centers for Disease Control & Prevention (CDC) Office of Public Health Genomics, sponsored a meeting for representatives of institutions from throughout the United States who were performing or considering universal Lynch Syndrome screening on newly diagnosed colorectal cancers.
At that meeting, the 35 participants — representing the National Institutes of Health, CDC, academic medical centers, cancer facilities, and health departments — discussed the need for a network focused on universal Lynch Syndrome screening. They unanimously agreed to form the Lynch Syndrome Screening Network (LSSN) to enable ongoing cooperative efforts.
The group obtained NIH funding from the Epidemiology and Genetics Research Program to hold a follow-up LSSN meeting in 2012.
---
LSSN Board of Directors

Cecelia Bellcross, PhD, MS, CGC
Emory University
cecelia.a.bellcross@emory.edu
404-727-3281

Heather Hampel, MS, CGC
The Ohio State University
heather.hampel@osumc.edu
614-293-7240

Alanna Kulchak Rahm, PhD, MS, CGC
Geisinger Health System
Danville, PA akrahm@geisinger.edu

Brandie Heald Leach, MS, LGC
Cleveland Clinic
leachb@ccf.org

Jessica Ezzell Hunter, PhD
Kaiser Permanente Northwest
Jessica.E.Hunter@kpchr.org

Laurel Hochstetler, MS, MSc, CGC
University of California, San Francisco
Laurel.Hochstetler@ucsf.edu

LSSN Leadership Appointees
Contact Us
For LSSN membership information-
Deb Duquette
debra.duquette@northwestern.edu
Questions about the LSSN website-
Deborah Cragun
deborahcragun@gmail.com